AURA REFLEKTA,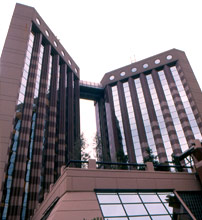 It is a brand of Trakya Glass,line over-coated reflective solar control glass.In float process,it is produced on colorless glass reflective
coaiting.( LVC prosesli – Laminar vopour coating system )
In all kinds of buildings and structures needed solar control glass,as a single glass or insulated glass (double glazing), or which could be used in the lamination structure of AURA reflekta reflective coating should be 2. on the surface in the way that it is to look at into the building or the spaces between insulated glass.
It is a hard-coated glass.Reflection color is silver,if transsmisson color is a clear bronze.It saves costs of air conditioner.As it is a durable coated glass,it provides a convenience in storage, transportation, application and processing. All solar control glass has risks of temperature fracture.Therefore, non-line coated solar control glass is recommended to use tempered or partially tempered.